Good morning, and welcome to our rolling coverage of the world economy, the financial markets, the eurozone and business.
Britain's housing market is stalling as worries that interest rates could rise soon spook buyers.
Sales and inquiries from potential purchasers both fell "noticeably" in September, and see little evidence that the market will pick up soon.
That's according to Britain's chartered surveyors, who have given a rather downbeat assessment of the sector.
They report that price gauge for London remains "firmly negative", and there are also signs that prices are cooling in the South East too, with talk that houses are simply over-priced.
In a new report, the Royal Institute of Chartered Surveyors say:



The UK housing market continues to lack momentum in September, as demand from new buyers and sales fall again and the shift in interest rate expectations contributes to buyer caution in a slowing market,
However, Wales, the North West of England, Scotland and Northern Ireland all saw prices rise in September – reflecting regional disparities in the housing market.
Prices are expected to fall over next three months, and growth over the coming year is predicted to be the weakest since June 2016.
As RICS puts it:



The headline indicators on demand and sales both slipped deeper into negative territory, with this subdued picture anticipated to persist over the coming months.

Feedback from contributors suggests the recent shift in interest rate expectations may be contributing to the more cautious tone in market sentiment.
Estate agents are particularly downbeat about London's prospects over the next year.
RICS says:



At the twelve month horizon, respondents do expect prices to increase in all areas, with London the sole exception. In the capital, twelve month expectations are now more downbeat than at any other point since this series was introduced in 2010.
This chart shows how prices in London are now lagging behind the rest of the country, having boomed earlier this decade: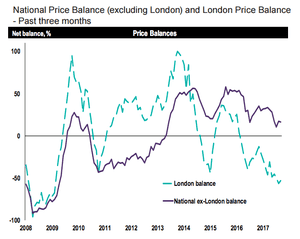 It looks like another sign that the UK economy is cooling.
Also coming up today
The UK government is outlining plans for a 'temporary' energy price cap, as it tries to deliver on Theresa May's pledge to end "rip-off" bills.
The Business department says the cap would run until 2020 (but might not get up and running until next year). A new draft bill will require regulator Ofgem to "consult and impose the cap as soon as practicable after the legislation is passed". More on that shortly.
Broadcaster Sky, recruitment firm Hays and food wholesale group Booker are all reporting results this morning. Citigroup and JP Morgan kick off the bank reporting season this afternoon.
European markets are expected to open little-changed on last night's close, after the US markets hit another record high.
We'll also keep an eye on Washington, where the International Monetary Fund and the World Bank are holding their Annual Meeting.
Here's the agenda:
9.30am: Bank of England publishes its latest credit conditions survey. That will show whether UK households and businesses are finding it harder to borrow money, and if lenders see any problems on the horizon .
2.30pm: IMF managing director Christine Lagarde gives a press conference in Washington. Expect questions about the global economic outlook and inequality, after the Fund raised its growth forecasts earlier this week.
3.30pm: European Central Bank president Mario Draghi is on an IMF/World Bank panel. He'll be discussing "Rethinking Macro Policy"; timely, with central bankers facing pressure to unwind their stimulus programmes.
Consumers face credit squeeze as lenders tighten loan availability – business live – The Guardian
Consumers face credit squeeze as lenders tighten loan availability – business live – The Guardian added by admin on
View all posts by admin →