SALT LAKE CITY — Heavy rains destroyed thousands of books when the Sprague Branch of the Salt Lake City Library flooded during a stormy night in July 2017.
Over two years later, however, renovation crews found vintage books and a nearly 100-year-old library card sheltered from the downpour inside the building's walls.
The library card, which belonged to a Jack Tripp in the 1930s, has been on display with the books at the library's new, temporary location at the Sprague Firehouse Express, 1085 E. Simpson Ave. in Salt Lake City.
On Nov. 16, three generations of Tripp's descendants who live in the area decided to make a trip over to the firehouse after the library card owner's last remaining child, Lynne Stapel, of Midvale, saw the story about the items on KSL.com, said Cherie Kofoed, a librarian at the Sprague branch.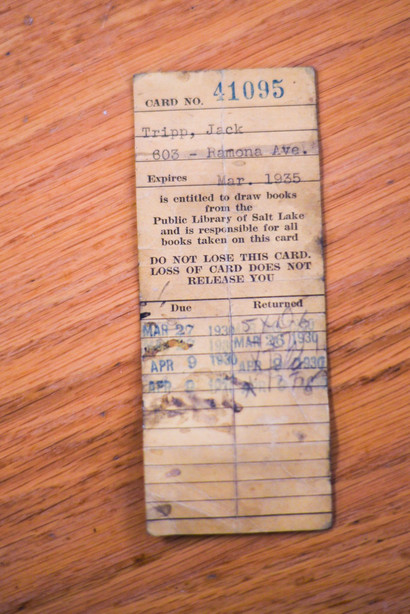 Tripp's granddaughter, two great-granddaughters and great-great-granddaughter visited the library and told the librarian more about their ancestor's life, Kofoed said.
According to Tripp's family, he was born in 1911 and passed away on Christmas night in 1962 at just 51 years old. He first married Georgia Brown, got divorced, then married Ardath Rasmussen. He was survived at the time of his death by his wife and three children: Stapel, Arba Smith and Jack Tripp Jr. (the father of one of the women who visited the library).
Tripp was a mechanic for Rocky Mountain Machinery Co. and a member of The Church of Jesus Christ of Latter-day Saints, according to his obituary. He lived in Sandy until his death. He was in his 20s when he owned (and lost) the library card.
"This was my father-in-law, and we have many Jack Tripp descendants," Beverly Tripp wrote in a comment on the library's Facebook post. "This has been really nice for our family."
×
Related Stories