Everything got shaken up in the Women's Sevens World Series, as New Zealand's reign ended, and Canada took top honors in Kitakyushu.
It may have been the lowest scoring final in HSBC World Rugby Women's Sevens Series history, but Canada's 7-5 victory over England in the HSBC Kitakyushu Sevens final was a nail-biting encounter that was only settled with the final kick of the game at Mikuni World Stadium on Sunday.
England looked on course to claim their first Cup title since April 2016 as the clock turned to red with them leading 5-0 after Amy Wilson Hardy's try late in the first half, but Canada dug deep and worked their way from one end of the field to the other before captain Ghislaine Landry found a gap in the defense to run round behind the posts to give herself a straightforward conversion to win the match.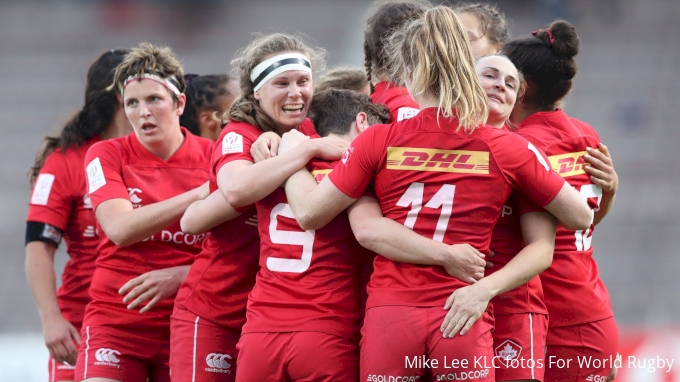 Landry, playing in her 30th series tournament, made no mistake with the conversion to break English hearts and secure a first title for Canada since February 2017 to ensure they leave Japanese shores far happier than 12 months ago when they posted their worst ever finish of 11th.
Canada's victory has moved them up to second place in the series standings with 66 points, now only six behind New Zealand who finished fifth in Kitakyushu. Bronze medallists USA have slipped to third as a result on 64 points with defending series champions Australia fourth with 56 and France fifth on 46.
"It's huge, we know that [Olympic qualification] is what it is all about. That is our main goal this season and to get a Cup final on top of that is a good feeling," Landry said. 
"It was such a fight, time is up and the girls kept their composure and to be able to finish that off feels pretty great. Everything we threw at them they had an answer for, so testament to England, they had a great weekend and gave us everything they had in that final. Sevens is such a hard game and in the last play of the last game it is a bit of a battle of the mind and we came out on top in that."
Throughout the weekend, the USA looked very strong. The Eagles ramped up the physicality, as promised, and put England to the sword on Day One to the tune of 43-7. They then crushed Fiji before just getting by Ireland.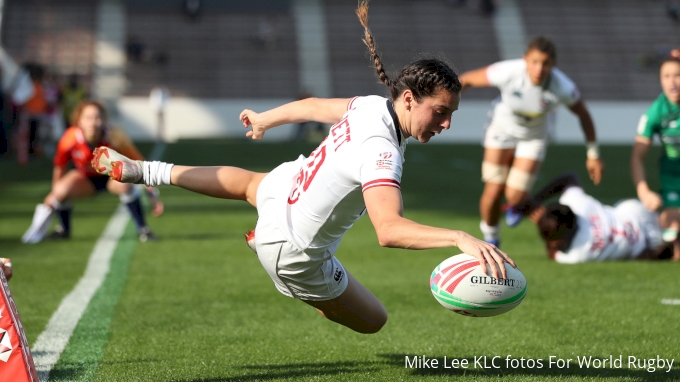 But things get weird sometimes. Despite having their most dominant pool play of the season, the USA found itself in trouble in the quarterfinal. New Zealand had inexplicably finished 1-1-1, losing to France, and thus finishing second in their pool. 
Facing the Black Ferns in the quarters wasn't much of a reward for good play, but the USA responded. Naya Tapper raced in for a try early, and while New Zealand got one back, Kristen Thomas produced a nifty stutter-step move to open space around the edge.
Alex Kelter burst through for a superb team effort right at the beginning of the second half. But New Zealand responded, punished a turnover, and tied the game, only to see Kristi Kirshe put her head down and go in for the winner.
New Zealand should never have been allowed to score their opening try as they got away with an obvious offense in the ruck, but the win was the USA's anyway.
The run of form ended against Canada, however, as the Canadians started strong, and didn't let up. But in the 3rd-4th game, the Americans torched France 36-12. Tapper and Lauren Doyles scree two each, with Ilona Maher and Kirshe adding tries.
But overall, this was simply a new look for the USA. They played with a bigger chip on their shoulder, and a bit more determination and killer instinct.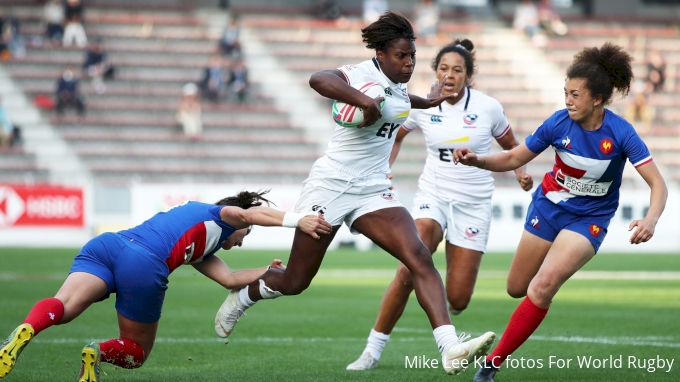 The result of all of this is the following:
1. New Zealand is beatable, as Doyle said in an interview with FloRugby last week.
2. New Zealand is catchable, and what was a commanding 12-point lead in the standings is now cut in half. Another rough showing and Canada or the USA could take 1st.
3. Two teams that were behind the USA in the standings gained on the Eagles. Canada bypassed the USA for 2nd after winning the Cup. England finished 2nd, but is way, way behind the Americans. When it comes to looking at the top four spots for Olympic Qualification, it appears virtually impossible for the North American teams to be dropped out.
4. Only one team has made every Cup Semifinal this season: the USA.
5. Two tournaments remain, Langford, BC in Canada and Biarritz in France. There's a good chance that New Zealand, Canada, and USA can clinch Olympic berths in Langford.
2018-19 Women's Sevens World Series Standings

POS
TEAM
USA
DUB
AUS
JAP
CAN
FRA
POINTS
1
New Zealand
20
20
20
12
–
–
72
2
Canada
16
18
12
20
–
–
66
3
USA
18
14
16
16
–
–
64
4
Australia
12
16
18
10
–
–
56
5
France
14
8
10
14
–
–
46
6
Ireland
10
6
14
8
–
–
38
7
England
6
10
3
18
–
–
37
8
Russia
8
12
8
6
–
–
34
9
Spain
4
3
6
3
–
–
16
10
Fiji
3
2
4
4
–
–
13
11
China
2
4
3
2
–
–
11
12
Japan
–
–
–
1
–
–
1
13
Kenya
–
1
–
–
–
–
1
14
Papua New Guinea
–
–
1
–
–
–
1
15
Mexico
1
–
–
–
–
–
1